Posted by

Laura Ercoli

on Thursday March 8th, 2018
Women in patents: WIPO publishes PCT data for the first time
Less than a third of PCT international patent applications indicate at least one woman as inventor, but the percentage of women inventors varies greatly depending upon the technology sector and application's country of origin: China and South Korea strike the best gender balance, and some technology sectors have a higher percentage of women indicated as inventor regardless of the patent's geographical origin.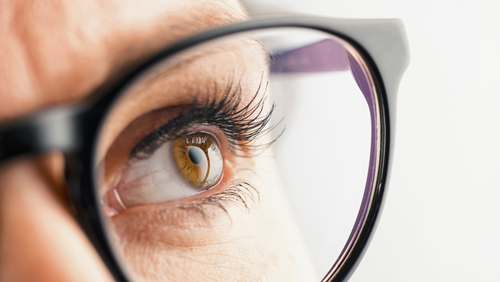 Women's role in innovative and creative activities is to be the theme of the 2018 World Intellectual Property Day celebrated annually by the World Intellectual Property Organization (WIPO) on 26 April.
According to WIPO, "more than ever before, women are taking up leadership roles and making their voices heard in the science, technology, business and the arts. This is good news. With women and men working together, we strengthen humanity's hand, and improve our ability to enrich our shared cultural wealth and develop effective solutions to alleviate poverty, boost global health, and safeguard the environment."
WIPO also reminds us that "the time is ripe to reflect on ways to ensure that increasing numbers of women and girls across the globe engage in innovation and creativity, and why this is so important.".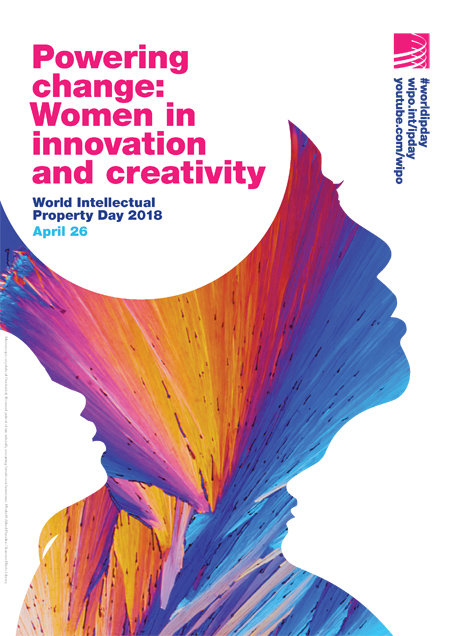 But which is the actual extent of women's contribution to innovation activities on a global scale?
One measurable parameter that can be useful in answering this question, in part at least, is the number of PCT patent applications in which at least one woman inventor is indicated.
The 2017 edition of WIPO's PCT Yearly Review includes for the first time a special section named Measuring women's participation in international patenting which considersPCT  international patent applications filed between 1995 and 2015.
Investigating the gender balance of inventors indicated in patent applications has always been hard because information required for filing does not usually include the inventors' gender.
However, WIPO has recently developed a multilingual dictionary of names used in 182 countries for the specific task of analysing inventors' names appearing in PCT international patent applications.
The dictionary is based on publicly available information as well as on the contribution of Chinese and Korean staff members at WIPO.
Which countries have the highest share of women inventors
The overall finding is that the share of women inventors in international patenting is (slowly) increasing: the percentage of PCT international patent applications indicating at least one woman inventor climbed from 17% in 1995 to 29% in 2015.
This overall percentage of women appearing in PCT international applications varies significantly if analysed state by state.
Among top countries for PCT filings, China and South Korea strike the best gender balance, with half the applications generated by these two countries indicating at least one woman inventor.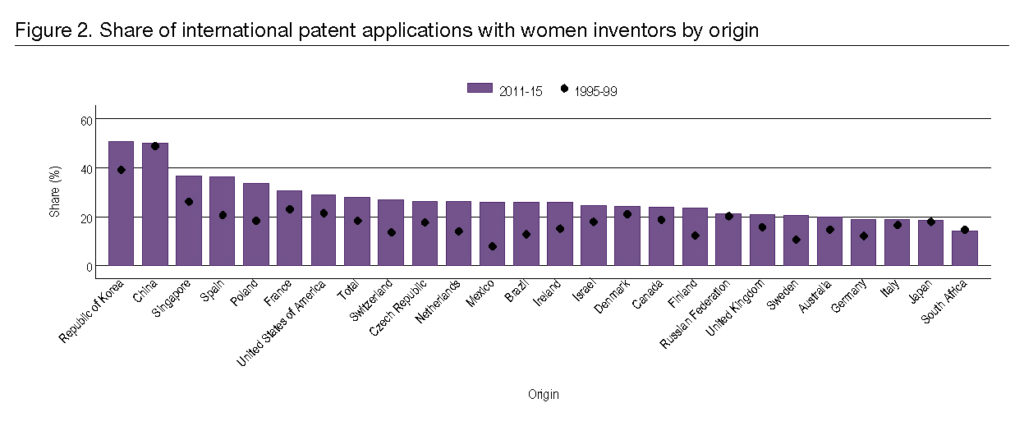 Singapore follows with 36.6% of applications, Spain with 36.3% and Poland with 33.5%.
Italy, Japan and South Africa, on the other hand, show the greatest gender gap with less that 20% of PCT applications indicating at least one woman inventor.
Top ten PCT applicants with highest share of women inventors
The following are the top ten PCT applicants with the highest share of women inventors in the 2011-2015 period. (Source: WIPO)
| | | | |
| --- | --- | --- | --- |
| Applicant | State | Number of women inventors | Number of PCT applications |
| LG Chem Ltd | South Korea | 2,849 | 2,288 |
| L'Oréal | France | 1,737 | 1,530 |
| Henkel KGaA | Germany | 1,346 | 1,174 |
| Novartis AG | Switzerland | 1,168 | 1,019 |
| F. Hoffman-La Roche AG | Switzerland | 1,024 | 935 |
| Merck Patent GmbH | Germany | 858 | 935 |
| Samsung Electronics Co Ltd | South Korea | 5,007 | 5,689 |
| BOE Technology Group | China | 1,543 | 2,045 |
| LG Electronics Inc | South Korea | 4,387 | 5,642 |
| Dow Global technologies Inc | USA | 1,576 | 1,993 |
Technology sectors with highest share of women inventors
If the data are analysed by area of technology, it appears that the biotechnology sector has the highest share of patents with at least one woman inventor (57.6%), followed by pharmaceuticals (55.5%), fine organic chemistry (54.1%), food chemistry (50.7%) and biological materials analysis.
The technology areas with the largest gender gap are civil engineering, engines pumps and turbines, machine tools, transport and mechanical elements.
It is therefore possible that the large gender gap found for countries such as Germany, Japan, South Africa and the United Kingdom is due to these countries filing a higher number of PCT patents in technology sectors characterised by a large gender gap.
The fact that Germany files a high number of PCT applications related to transport, while only 2% of PCT applications in transport originate from China, is an example of how the low share of women inventors in patents originating from a certain state may be determined by the technology sector in which that country files the most PCT applications.
WIPO figures also show that the number of women among inventors appearing in application is growing faster in the five sectors with the best gender balance even in countries, such as Japan, where the mean gap is quite wide. A higher than average growth of women inventor numbers is also found in areas related to ICT such as digital communications and telecommunications.
Gender balance in patenting? Only in 2080
WIPO concludes that "to a certain extent, improvement in a country's gender balance score will depend on the level of patenting activity in the life sciences and fast-growing technological fields.
But for the moment, the proportion of women inventors relative to men remains far from balanced, and at the current rate of progress, gender balance will be reached only in 2080.
WIPO has also announced that it plans to analyse data on Hague (international design) and Madrid system (international trademark) applications, in order to extract further information on the role of women in innovation and creative activities on a global scale.