Posted by

Laura Ercoli

on 14 settembre 2016
Sarai al TMAP INTA? Non perdere il table topic sui social media
L'edizione 2016 del Trademark Administrators and Practitioners Meeting (TMAP), organizzato annualmente dalla International Trademark Association (INTA), si svolgerà a Washington dal 14 al 16 settembre.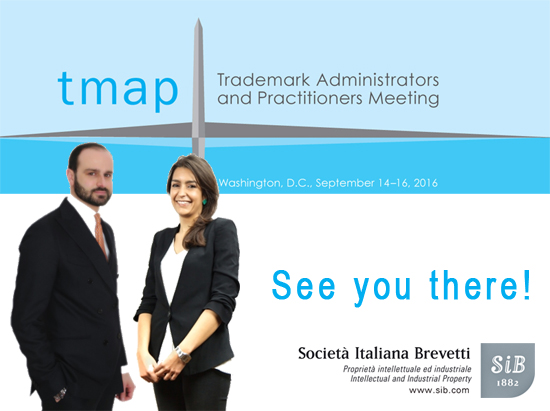 Il TMAP è un incontro di aggiornamento sugli sviluppi normativi nella tutela di marchi e brand a livello internazionale, finalizzato all'acquisizione di nuovi strumenti e competenze.
In più, quest'anno il programma del TMAP comprende per la prima volta i "table topic", discussioni moderate per gruppi di dieci persone su una nutrita serie di argomenti.
Saranno presenti per SIB il nostro partner Lorenzo Litta insieme ad Alessandra Patrono.
Lorenzo Litta modererà il table topic su social media e difesa dei diritti: "Demand Letters and Diplomacy in the Social Media Age", in programma il 15 settembre, mentre il 16 sarà relatore sul tema "Global Portfolio Management on a Budget".
Per fissare un incontro con Lorenzo Litta o Alessandra Patrono ai margini del meeting, scrivici.