Posted by

Laura Ercoli

on Wednesday October 25th, 2017
We'll be at the 17th FICPI Open Forum in Venice
We'll be taking part in the 17th FICPI Open Forum happening in Venice, 25-28 October 2017, at the Hilton Molino Stucky Hotel.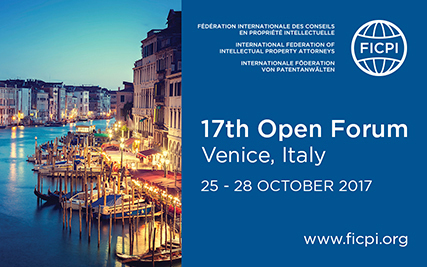 The event's programme covers a wide range of practical topics relevant to intellectual property professionals, from patent self-collision ("how to avoid shooting your client in the foot"), to finding and keeping the right people at your firm.
Our partners Jacopo de Benedetti, Antonio Mario Pizzoli and Elisabetta Papa with Marta Manfrin will take part in the forum.
Antonio Mario Pizzoli is a panel member one of the plenary sessions called "Mediation – An interactive experience". The session will provide examples of the benefits of mediating intellectual property disputes as well as the experience of a mock IP mediation, with a chance to interact with members of the panel acting as mediator and opposing parties.
Should you wish to arrange a meeting with one of our partners during the FICPI Open Forum, please email us.
The Forum also offers a golden opportunity to keep fit while taking an alternative tour of Venice: don't miss the Morning Jogging Sessions, on Thursday and Friday, starting from the Zattere/Gesuati at 7 a.m.!
Marta Manfrin has tested the run in advance and will be setting the pace for the Friday session.