Posted by

Laura Ercoli

on Tuesday November 12th, 2019
2020 DesignEuropa Awards call for entries open until 20 April
Submit your registered Community designs by 20 April 2020 to enter the 2020 DesignEuropa Awards, celebrating excellence in design and design rights management.
Time for the DesignEuropa Awards 2020! Into their third edition this year and going strong, the DesignEuropa Awards are organised every two years by the European Union Intellectual Property Office  (EUIPO)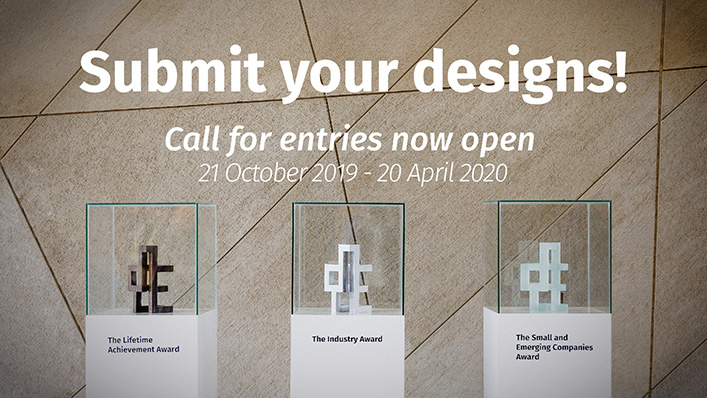 with the aim of raising public awareness of the Community design protection system and of promoting registered designs as valuable intellectual property righs that underpin our economy and support jobs.
The awards celebrate excellence in design and design rights management.
Candidates
The competition is open to any person, entity or institution of any nationality, either individually or as a team, provided that they own a valid RCD that is also marketed and sold (in any country).
Categories
Entries must indicate one the following categories.
Industry – RCDs owned by companies with 50 or more employees and with a turnover or balance sheet total of EUR 10 million or more.
Small and emerging companies – RCDs owned by companiethats comply with at least one of thefollowing conditions:
fewer than 50 employees and a turnover or balance sheet total of less than EUR 10 million
established on orsince 1 January 2016.
Lifetime Achievement – designers with a significant body of work, developed over the course of a career, who have had a significant impact on the design profession.
Deadline for submission
The DesignEuropa 2020 call for entries is open until 20 April 2020 (included).
Awards ceremony
The winners will be announced at the awards ceremony to be held in Eindhoven, The Netherlands, on 20 October 2020.
Further information
Download the Rules of the 2020 DesignEuropa Awards