Posted by

Laura Ercoli

on Tuesday February 11th, 2020
How customs stop counterfeits at EU borders – and how IP right-holders worldwide can benefit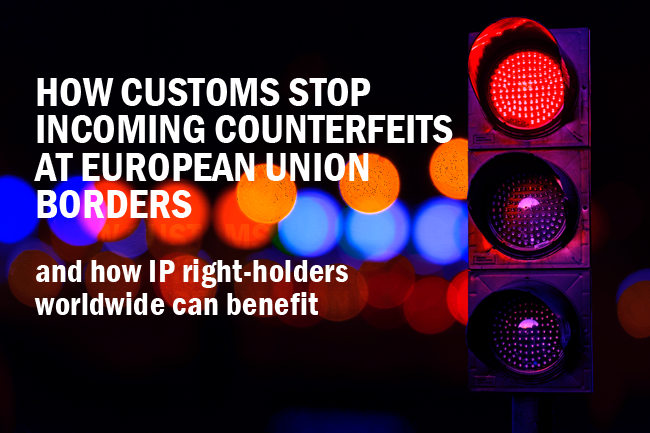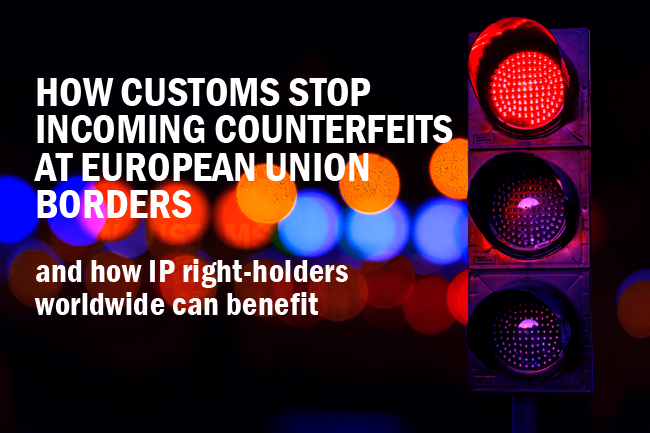 EU customs efficiently stop incoming counterfeits at EU borders thanks to effective legislation, technology and experience. Owners of intellectual property rights valid in the EU should consider taking advantage of EU customs border seizure procedures in order to protect their profits and brand reputation in a 500 million consumer market.
EU policy-makers are well aware of the dangers that the counterfeiting industry poses for the profitability of an economy that is becoming increasingly IP-based. According to the latest EPO-EUIPO report on the EU's IPR-intensive industries, European enterprises with an above-average ownership of IP rights generate almost 45% of the EU's GDP, account directly or indirectly for a whopping 83.3 million jobs and originate most of the EU's trade with the rest of the world.
It is also clear that since the EU single market has no customs formalities at the borders between member states, it makes sense to stop incoming counterfeits at EU borders, before they enter the EU space. Once an infringing product has crossed the EU's threshold, it becomes much harder to prevent its circulation in all member states.
That is why a specific European Regulation on the enforcement of IP rights at customs provides the legal framework allowing customs authorities to suspend importation of goods suspected of infringing an IP right and, if suspicions are confirmed by the IP right-holder, quickly destroy the goods.
Dealing with counterfeits at EU borders
According to the latest Report on the EU customs enforcement of intellectual property rights, in 2018 customs authorities made over 69 thousand detentions of articles suspected of infringing IP rights, seizing a total of 26.7 million articles. The value of detained goods amounted to about 738 million euros (819 million USD), up from the previous year's value of over 582 million euros (645 million USD).
The detained goods were destroyed in over 85% of cases.
How IP right-holders worldwide can benefit
The EU's single market accounts for 500 million consumers. Preventing goods that infringe your IP rights from reaching those consumers, thus avoiding loss of revenue while defending your brand's reputation, is an obvious advantage, especially if it comes at a low cost.
However requesting customs action has additional benefits: it can be a source of information on the provenance of counterfeits, and it can provide the IP right-holder with useful documentation of its anti-counterfeiting activities.
How EU customs action works
Who may apply
Holders of IP rights that are valid in any, or all, member states of the EU may apply for customs action.
Exclusive licensees of the above IP rights may apply, providing they have the consent of the IP right-holder.
Validity of rights in the EU
The IP right must be valid in the entire EU in order for the EU-wide customs action be applicable. An IP right registered nationally in an EU member state can be the base for a request for domestic customs applications and/or action at the borders of that member state.
Customs action step by step
Step 1 – File the request with customs
The request must identify the IP right(s) and include a description of original goods as well as information on packaging, place of production and prices and any other relevant data.
Step 2 – Customs detect suspicious goods
Customs detain the goods suspected of infringing the IP right, suspend importation and notify the IP right-holder, requesting confirmation that goods infringe the IP right.
Step 3 – IP right-holder confirms infringement of IP right
The IP right-holder inspects the goods suspected of infringement (usually by inspecting photos of goods provided by customs) and confirms or denies infringement.
Step 4 – Destruction of goods
If the IP right-holder confirms that the goods infringe the IP right, customs seize the goods and quickly destroy them (unless the owner of the goods objects, which is rare). In any case, the customs authorities give notice to the public prosecutor's office in order to evaluate any possible criminal action against the owner of the goods. On the other hand, if the owner of the goods does raise objections the customs detention may lead to civil action for IP rights infringement, to be brought by the owner of the IP rights involved.
Which IP rights are eligible?
Customs action can be requested for the IP rights listed below with validity in any or all EU member states.
– trademarks
– patents
– designs
– copyrights
– supplementary protection certificates
– plant breeder's rights
– appellations of origin
– geographical indications
– utility models
– semiconductor topographies.
Costs
The cost of applying for EU customs to suspend the importation of goods suspected of infringing an IP right is very reasonable. Requests are valid for one year and can be renewed indefinitely.
A single request can cover multiple IP rights of different kinds (i.e., trademarks and designs) at no additional cost.
Think ahead
Customs officers can act on their own initiative to suspend importation of suspicious goods also in the absence of a specific request by an IP right-holder.
However upon finding the suspicious goods, customs have only a few days to seek contact with the owner of the IP right; if they succeed, the procedure can only continue if a formal request is filed – and often there is not enough time left before the suspension term expires and the goods must be released for circulation within the EU.
It is therefore a good idea for owners of IP rights not to wait for the existence of infringing products on the EU market to become manifest before filing a request for EU customs action.
Need more information?
Our firm deals with filing requests for EU customs action and represents clients in all interaction with customs authorities.
Should the need arise, we can also provide assistance through law firm SIB LEX for any subsequent legal action, either in our out of court, arising from customs detentions.
For further details, check out our fact sheet on Customs action and please contact us if you have any questions, we'll be happy to hear from you!