Posted by

Società Italiana Brevetti

on Tuesday June 23rd, 2015
Patent 1000 recommends SIB in 2015 edition
Patent 1000 – The World's Leading Patent Practitioners Professionals recommends SIB Società Italiana Brevetti for the fourth consecutive year in its 2015 edition.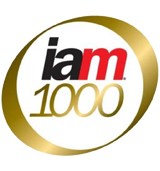 According to the guide SIB offers "a comprehensive package of prosecution and counselling services", and clients are "cementing its reputation as a sophisticated IP adviser". The guide also points out that "global portfolio management is a forte."
Patent 1000 2015 lists our attorneys Emanuele Concone, Claudio Germinario, Elisabetta Papa and Antonio Mario Pizzoli as "recommended individuals".
SIB is ranked in other leading intellectual property guides: find out which ones.