Posted by

Laura Ercoli

on Monday April 15th, 2019
Italy, Banksy Goes to Court (in Anonymity) – A. Torrigiani Malaspina
In decision No. 52442/2018 R.G., in Pest Control Office Limited v. 24 Ore Cultura S.r.l., of January 15, 2019, the Court of Milan ruled that while the use of BANKSY trademarks in connection with an exhibition is allowed, use on merchandising articles sold in connection with the exhibition infringes the invoked trademark rights.
The British company Pest Control Office (Pest Control) sued 24 Ore Cultura (24 Ore) for organizing an unauthorized Banksy exhibition featuring 70 artworks of private collectors attributed to the artist. Pest Control is the owner of several European Trademarks (EUTMs) for the BANKSY word mark and related figurative marks. In addition, Pest Control handles Banksy's intellectual property (IP) rights and is responsible for selling the artist's work and organizing exhibitions.
Pest Control claimed that 24 Ore had infringed its copyright and trademark rights as well as committed acts of unfair competition and sought an injunction against the unauthorized use of its trademarks and copyright and the withdrawal from the market of the relative items of merchandising. The claim was based on its BANKSY EU word mark and GIRL WITH BALLOON [Figure 1] and THE FLOWER THROWER [Figure 2] figurative marks covering, inter alia, Classes 16 and 42.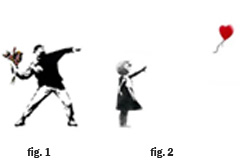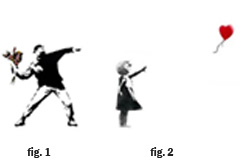 24 Ore replied by contesting the entitlement of the claimant to enforce Banksy's rights and maintaining that, in any case, no copyright violation occurred.
The judge found that the use of the BANKSY word mark and the GIRL WITH BALLOON and THE FLOWER THROWER figurative marks in the specific context of communications regarding the content of the exhibition was a descriptive one and, as such, legitimate. However, the merchandising articles, consisting of stationery items (Class 16), did not have a specific relation to the exhibition. Therefore, the judge granted the injunction in connection with the items of merchandising.
The copyright infringement claim was denied as the judge declared that the artworks were not street art but rather authorized copies, commercialized with the author's consent. Furthermore, the judge's reasoning showed that the defendant's actions may have amounted to copyright infringement had Banksy been the claimant personally. However, because the action was brought by a company that did not demonstrate its title to enforce the artist's rights, the judge rejected this part of the claim. (Pest Control had declared in its submission to the court to have been appointed by Banksy to handle and protect the artist's IP rights, but it did not file appropriate documents to prove its entitlement because this would have revealed Banksy's identity, which is something that the artist is well known for avoiding at all costs.)
The author Angelica Torrigiani Malaspina is a European Trademark Attorney and partner at SIB.
This article first appeared in the INTA Bulletin and is reproduced with permission from the International Trademark Association (INTA).