Fabrizio DE BENEDETTI
Chair of BoA - Head of trademarks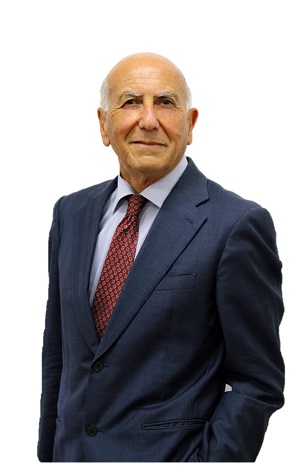 Experience
Fabrizio is the firm's Chair of Board of Administration and Head of trademarks. He has over 40 years of practice covering all aspects of IP rights.
His contribution to drafting national and European IP laws has been extensive.
Fabrizio has taken part in Italian government bodies in charge of:
– applying the European Union Trademarks Directive (ongoing);
– supplementing the Industrial Property Code with provisions implementing the Unified Patent Court Agreeement (2016)drafting of the Implementing regulation of the Intellectual Property Code and of its amending decree (2010);
– revising Italian IP law and preparation of an Intellectual Property Code (concerning patents, designs, trademarks, geographical indications, plant breeders' rights, semiconductor topographies, undisclosed information – 2005);
– application of the Madrid Protocol (1996) in Italy;
– application of the TRIPs Agreement (1995) in Italy;
– revising Italian Trademark Law (1990-91) and Patent Law (1979-80).
His comprehensive insight into legislation governing IP in Europe has been an invaluable asset in advising companies on particularly complex points of law, or on the application of new provisions at Italian and European level.
His clients include multinational companies with a wide range of interests, but also universities and research organisations.
Lecturing and publishing
Fabrizio is often invited to hold seminars and lectures at university level on many aspects of IP, including the relationship between trademark and design protection, patent protection in Europe and international trademark issues in general. He regularly contributes articles and comments to major national and international IP journals. Fabrizio is the author of several books. He is editor and co-author with Gustavo Ghidini of the commentary on the Italian Industrial Property Code "Codice della Proprietà Industriale, commento alla normativa" (published by Il Sole 24 Ore Pirola).
Activity
Trademark and patent counseling.
Unfair competition.
Licensing and contracts.
Evaluation of patent and trademark portfolios.
Legislative counsel in the field of intellectual and industrial property
Memberships
Past president of the Ordine dei Consulenti in Proprietà Industriale (Italian Industrial Property Consultants Institute). Member of the Collegio dei Consulenti in Proprietà Industriale (Italian section of FICPI). Member of the Institute of Professional Representatives before the European Patent Office. Member of Honour and past president of ECTA, Advisory Committee and Law Committee. Member of Honour of FICPI. Member of INTA, AIPPI, LES, UNION and AIPLA as well as of the Institute of International Affairs; foreign member of the Chartered Institute of Patent Agents and of the Institute of Trade Mark Attorneys.
Recognitions
Who's Who Legal: Trademarks, Global Leader 2015-2021.
WTR 1000 – The World's Leading Trademark Professionals 2020-2021.
Expert Guides Trademarks 2020-2021.
Leaders League IP Attorneys 2021.
Qualifications
Italian and European Patent Attorney, Italian and European Trademark Attorney, Community Design Attorney.
Education
Master's degree in Economics, La Sapienza University of Rome.